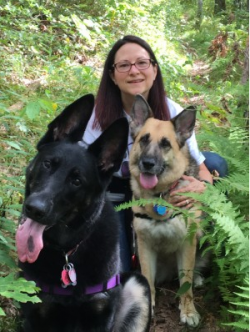 Simpsonville, SC Pet Sitting Services
Hound About Town, LLC offers comprehensive pet care services designed to meet a range of needs. Since 1997, we've been providing sitting, walking, feeding, and care services to residents across the east coast and now primarily throughout Simpsonville SC, and Fountain Inn SC. As a family-owned and -operated business, we pride ourselves on the level of service that we're able to deliver to each and every one of our clients. To ensure that we're a good fit to meet your pets' needs, our special needs cat sitters and dog sitters offer a complementary meet and greet session in advance of hiring us to care for your furry friend!
In addition to pet sitting services, we also offer dog walking, feeding and more. Owner and operator Angela Creech is a certified Reiki master and a level 2 practitioner of Reiki healing services for your pet. Using healing energy, we can help remove stress from your pet and make them more comfortable. We also offer pet transportation, drop-in visits, and home checks.
Hire Local Special Needs Pet Sitters
To learn more about our comprehensive pet care services, reach out to one of our friendly representatives today. We'll gladly care for your pet while you're away!
Hound About Town, LLC has been building long-term, pawsome relationships with pets as a special needs dog sitter and cat sitter in Simpsonville, SC.
Simpsonville, SC
Mauldin, SC
Fountain Inn, SC